Rental of seasonal or visiting docks
Boats up to 65′
Gasoline and septic pumping on site
Electricity/drinking water
Boat launch (member only)
Entrance to la Ronde via the marina (Boater Privilege)
Ice/soft drinks/juice/water
Toilet
Showers
laundry room
Picnic areas
Magnificent view of the LOTO-QUEBEC fireworks
Special events (F1 / Fireworks and others to come)
Storage
Wintering
Private parking
Land shuttle (new in 2023)
In a very modern and avant-garde decor, there are toilets, showers and counters. In the middle of the hot season, you can refresh yourself in the bathrooms because they are air-conditioned and secure.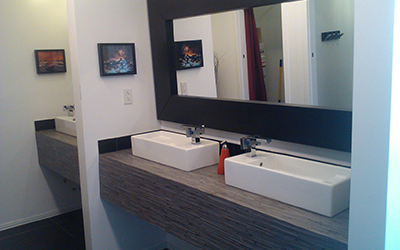 A system of magnetic cards and cameras are installed at several points on the site. Access is private, only members and guests will have access to the marina.
Gas station
SUPER-INTER-REGULAR
A large 180-foot dock is available to boaters. This facilitates safe docking.
Toilet
A new building was installed in 2022. A space is available to the user who uses the services of the marina.
Nautical express store
There is a small express store to serve nautical customers who navigate the St. Lawrence River near Montreal. To make the experience more enjoyable, we have created a friendly and safe space on the docks. Inside the building we have nautical safety, aesthetics, sanitary products, ropes, oils & lubricants for boats.
Need to quench your thirst and ice bag!
An indoor section is reserved for beverages and a bag of ice. For the little ones, a lollipop awaits you! There's nothing better than keeping the kids busy watching the La Ronde rides during the refueling!
Septic drain
An attendant is at your disposal to empty your septic tank during your visit! See the price list in the Rates menu
An access ramp is offered to seasonal customers only. A wharf has been installed in the ramp to facilitate launching and exiting the water from the watercraft. In addition, the ramp also serves as an emergency water outlet. This ramp is private and locked, only seasonal members can use it. Moreover, the ramp is accessible during marina opening hours and by appointment only.
It is common for boaters to experience small mechanical problems on the water and sometimes this experience can be unpleasant, or even trying, depending on the weather conditions.
Our marina can receive boats that have broken down or have had an incident requiring emergency services in our access ramp. It is essential to communicate with the coast guard service (channel 16) to tow the boat. The Coast Guard will tow the boat to the nearest marina to the scene of the incident.
The Port de Plaisance La Ronde has spaces for the storage of boats of 40 feet and less. Also, a wintering service, packing and restarting for the spring are offered.
Automn service
Hydraulic trailer, exterior storage, engine wintering, plumbing and accessories, boat packing shrink.
Summer service
Trailer storage (limited places) and price according to the number of axles, see price list (member only)
Other service available, do not hesitate to call us